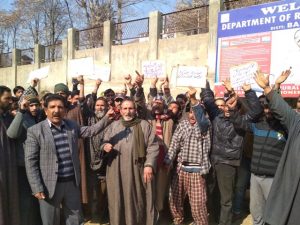 Waheed Bhat
Bandipora, Jan 22:- The Contingent Paid workers of Education Department Bandipora Stage protest demonstration in Mini Secretariat Complex here in North Kashmir's Bandipora district today.
Chanting slogans in favor of their demands, the protesters demanded inclusion in SRO-520 and appealed government to consider their services. The protesters said they are working with education department since decades and were paid only Rs 25 per month while earlier they were also not included in Minimum wages act also and alleged that government is doing injustice with them.
They said, if they are not included in SRO-520 regarding regularization then they will launch state wide agitation against ill treatment of Government towards thousands of CPW's.
Employees Joint Action Committee Bandipora President, Peerzada Sharif-ud-din Shah, said that Contingent Paid workers are protesting and demanding the redressal of their genuine demands especially their inclusion in SRO 520 but it is unfortunate that the authorities are not paying serious attention towards the issues of CPWs who have been working in the department on meager amount since years but the authorities are not serious to give justice to these poor employees. He said, if their genuine demands are not fulfilled we will launch state wide agitation.