DC Bandipora assures better Education, Healthcare facilities for specially-abled
Provides a grant of Rs 5 lakh for improving education infrastructure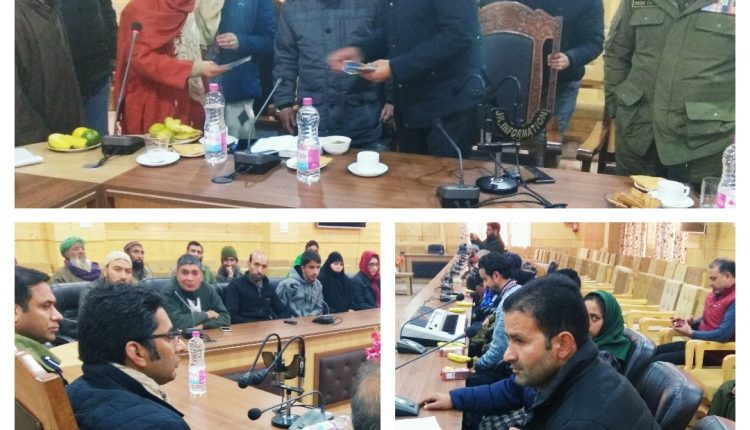 BANDIPORA, DECEMBER 03: The Department of Education, Bandipora on Monday observed World Disabilities Day with an aim to raise awareness about the rights of the individuals with special abilities and sensitize the people about their problems.
Speaking on the occasion, Deputy Commissioner Bandipora Dr Shahid Iqbal Choudhary stressed on providing better facilities to the children with special abilities so that they can get better education. He said providing better education and healthcare facilities to such individuals should be the priority for all and assured that all required measures shall be taken to ensure better education for these individuals.
He announced a special grant of Rs five lakh for improving the education facilities for the students with special abilities. He said Government has taken several measures for the welfare of the disabled persons from time to time, including financial assistance in the shape of pension, free education, free medical treatment, free travel, vocational programmes and other sops and a large number of people are availing these benefits.
He also directed the officials to suggest measures that needs to be taken to improve the infrastructure and the facilities for such individuals so that they can get better education and healthcare facilities in the district. He said observing the day once in a year will hardly serve any purpose but need of the hour is to do something concrete for the upliftment of such persons with collective efforts.
Superintendent of Police, Sheikh Zulfikar Azad also spoke on the occasion and called for collective efforts to ensure a friendly atmosphere for the persons with special abilities. Earlier Chief Education Officer Munshi Javed also spoke on the occasion and presented the over view of the facilities provided by the department of education under Samagra Shiksha Abiyan (SSA).
District Coordinator Inclusive Education for Disabled Syed Sheeba welcomed the guests and presented the aims and objectives of the IED wing of Education Department and also gave a presentation with regard to the facilities being provided by them to the students with special abilities.