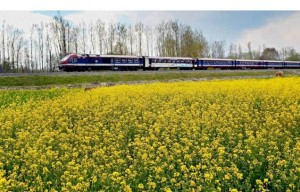 Whenever I think of Kashmir,
and I think often I think of the lofty mountains
and the milky streams,
Of the sprawling landscapes and meadows,
Of the blooming yellow flowers and the tulip garden
Of the beautiful, long nosed, fair, rose cheeked people
Of beauty ! beauty ! and sheer beauty !
Whenever I remember Kashmir, and I remember often
I remember the beautiful memories of Srinagar,
Of Dal, Shalimar, Nishat and Chashme – Shahi
Of Shankaracharya, Gulmarg, Sonamarg and Pahalgam
Of Kheer Bhawani, Amarnath and Kaman Setu
Of good times and good times !
Whenever I fondly miss Kashmir and I miss often
I miss my 'Karam Bhoomi' of Bandipora
Of Alim, Adab and Aab Of Wular Lake and Baba Shakur-ud-din
Of Erin, Aragam and Panar
Of Apple Orchards and Rainbow Trout
And above all, the people ; ever humble and warm
Whenever I poignantly think of Kashmir, and I think often
I feel sad at the state of affairs today
Of the separatism and radicalization
Of the stone pelting and pellet wounds
Of the young dying and getting injured each day
Of the 'living hell' that the place is turning each day
Whenever I am enraged about Kashmir, and I get enraged often
I get enraged at the 'unfriendly neighbor' and 'separatists';
who continue to fuel terror and divide people
Of diabolical intentions to 'land grab' and misguide OUR people
Of objectives to finish off Kashmiriyat, Jamhooriyat and Insaniyat
Of cunning unquenched thirst for bloodshed !
And more bloodshed !
When I optimistically think of Kashmir, and I think and pray often
I think that time will come when we will be able to make
the separatists and the misguided youths 'see reason'
To envision that 'India is Kashmir and Kashmir is India'
To appreciate that we have the same roots, culture, shared history
and are part of the same great civilization
To see how compelling it is to RESET and REBUILD
the 'heaven on earth', earliest
To see how prosperous is the secular, socialist, democratic republic
To see as to how 'Unity in Diversity' is the core strength of India
And Kashmir is its Shining example
I have hope and faith in my Kashmiris brethren
And in the undying love for them of the Indian people
And thus I remember and pray for Kashmir,
And I do it often