Held rally to invite KPs to return to Valley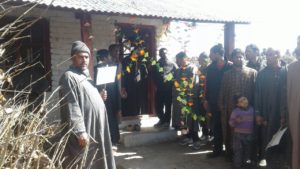 Waheed Bhat 
Bandipora,  February 24 : Muslims population of Sumbal area of north Kashmir's Bandipora district on Friday  opened "Nandkishore Temple"- closed from almost three decades, to lure their migrated Hindu brethren to return to Valley .
The  temple was reopened after a gap of more than twenty seven years to celebrate Hindu festival Maha Shivratri and to send a message to Kashmiri Pandits(KPs) to come back and live among them.
The temple was closed since 1990 soon after Kashmiri Pandits migrated from the valley.
On the occasion hundreds of locals gathered and took up cleanliness works in and around the temple in order to send the message.
Scores of Kashmiri muslims gathered in the temple and prayed for peace and communal harmony in the State.
People present said that kashmir is not Kashmir without kashmiri Pandits.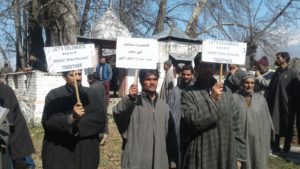 "We request Kashmiri Pandits to return to their homes. Before 1990's we used to share eachother's joys and sorrows. We were taught by Pandits and were always there for each other in times of need and lived together as one happy family," a local Muslim Mohammad Sultan said.
"We used to share walnuts, fried fishes during this festival.  We are incomplete without our Hindu brothers, and they should return and live among us like we used to live," Mr Sultan said.
Farooq Ahmad, another local said, Kashmiri Pandits are part and parcel of the Kashmiri society and we welcome them.
"They are welcome to return to their villages and homes in Kashmir. They are part of this Kashmir garden and we want them to come back and let this garden shine like it used to, before 1990's," Farooq said.
"Since they are not here we came here in the temple and cleaned like they used to do and tried our best to celebrate the festival with the aim of sending message to them to return back this paradise that is incomplete without them,"Farooq said.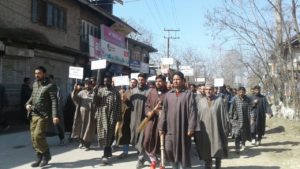 A rally was carried out from Sumbal colony to Nandkishore Temple by scores of Kashmiri Muslims, holding placards in hands. Some of the placards read, "Let's celebrate next Herath (MahaShivratari) together," "We all have suffered, "Let's bring Kashmiris together,Kashmiri Pandits return back and Kashmir is incomplete without you."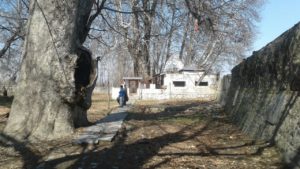 Meanwhile, PDP leader and MLC Bandipora Yasir Reshi released two lacs from his Constituency Development Fund for the maintenance of the temple.