Locals blame admin for negligence
KC News
Nadihal (Bandipora) March 09: a vital bridge on the Srinagar Bandipora road near Nadihal was partially damaged on Friday after a Truck skidded off the road near it and fell into a stream.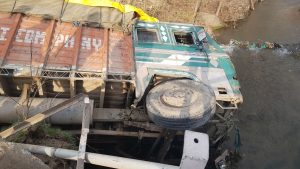 A truck bearing registration No JK021M-1862 rolled down into Nallah near Petrol Pump Nadihal on Friday afternoon damaging the narrow bridge thereby affecting the traffic for several hours.
Though the traffic resumed, however the locals alleged that the bridge is unsafe for heavy vehicles as its fencing and embankments were damaged thus further weakening the bridge. They say the bridge is half to the breadth of the Srinagar Bandipora road and hence is cause of frequent traffic jams as only one vehicle can cross the bridge at a time.
Locals said despite repeated requests to the government, the bridge has not been constructed and appealed to construct to save lives and property of the people.
"Only one vehicle can pass at a time on this bridge which is totally unsafe for heavy vehicular traffic" locals alleged.
A local resident of the area Tanveer Ahmad Khan said this particular spot has become accident prone and many accidents have taken place at the spot.
Locals appeal district administration to start reconstruction of bride on priority basis so that precious lives can be saved.