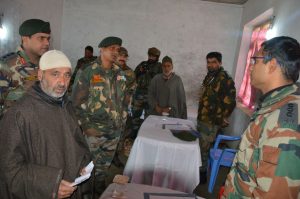 Rampura, Sopore , Feburary 19: With the aim of bringing in quality healthcare to remote areas, a Mega Medical cum Veterinary Camp was organised today by RR Battalion at Paribal Tekri (under the aegis of Watlab Sector) for population of Rampura and two surrounding villages.
An official spokesperson said the aim of this Camp was to reach out to the people of remote areas, cater to their medical problems and spread awareness on health and hygiene as also to give veterinary care to the livestock of locals. The Mega Medical cum Veterinary Camp was inaugurated by Brigadier V Hariharan, Commander Watlab Sector.
A joint team of doctors from Army and local nursing assistants, including four Army doctors (including one lady doctor) and two civil nursing assistants participated in providing medical assistance to over 500 people including men, women and children.
"Besides this 376 livestock were also treated at the Camp by a team of veterinary assistants. Free blood sugar test was also conducted for over 50 persons and medicines were distributed to all the needy patients and livestock for free. Not only the locals enjoyed medical benefits but they were also treated with tea and refreshments.
Jalaldin Lone, Sarpanch of Rampura said, "Such a mega event is being conducted for the first time in Rampura and everyone is grateful to the Army." The event lasted for over six hours and was a huge success. The active participation of the locals and their enthusiasm during the event gave a glimpse of strengthening ties between Awam and Jawan.