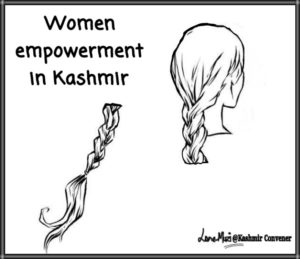 Sofi Zahoor
It has been almost more than two months since the chaos of braid chopping struck the valley, resulting more than hundred of such incidents and leaving everyone in distress. There was a chaotic situation in entire valley as it spread like a wild fire throughout the valley and more than one incident of braid chopping was coming on routine basis . The women especially young girls were forced to cut short their outdoor activities as there was no guarantee for them to return safe from schools, colleges, workplaces, etc .
The people took to streets against the inability of government and law enforcing agencies in tackling the issue and nabbing the real culprits involved in this braid chopping. Everywhere, there was visible public anger and mistrust against the government and its machinery.
Some termed it mass hysteria while some showed genuine concerns. People on their own started night patrol to keep vigil on these braid coppers and on the suspicious movements as most of the such incidents took place either during nights or early in the mornings .In the meantime , the state government`s doldrums continued as even after more than fifty of such incidents, no concrete measures were taken to ensure safety to those who were made real targets by these braid choppers.
The state Police not only announced Rupees 6 lakh reward for those who would provide accurate information about a braid chopper but also established various helplines across the valley. It is worth mention here that it is the same Police who claim to have solved the cases of burglary, kidnapping, killing, rape and arresting of drug peddlers and OGW`s on daily basis.
In this trauma, several people were caught and were brutally thrashed by the public on the charges of braid choppers but unfortunately most of them turned out to be innocent ones.
Moreover after the work done, some braid choppers fled from the spot with the alleged help of Army`s cover fire, While many were saved from the public thrashing by the police. The heart wrenching part of this chaos came when an old man who was mistakenly taken as braid chopper lost his life by the thrashing of the angry mob and when so called braid vigilantes caught a mentally retard person mistakenly as a braid chopper and tried to burn him alive.
Within the couple of days , the same J and K police arrested many youths from the respective areas where these two unfortunate incidents took place. In order to hide its inability of nabbing the real culprits, the state government started praising the police for saving the life of a mentally unsound person. Surprisingly , there was a gradual decrease in the cases of braid chopping after this unfortunate incident .More than hundred cases of braid chopping were reported in the valley and same number of FIRs were filed in different police stations.
After almost two months of distress, the girls were again able to come out for their outdoor activities and the situation was back to normal. According to government and state police everything seem to be normal now . But unfortunately even after more than one month, the J&K police is still unable to nab those braid choppers. It is worth to mention here that the Chief Minister Mehbooba Mufti recently at Manigam, Ganderbal left no stone unturned in praising the performance and credibility of Jammu and Kashmir Police. Expressing her gratitude to state Police, She said that the state Police has shown remarkable discipline while executing its duty and it has played a crucial role in restoring the normalcy in the valley. One wonders that what makes J&K Police credible and civilized? Firing pellets and tear gas shells on innocent persons like Insha ? Going berserk and damaging houses of common masses ?
Now there are certain questions that who actually was behind this braid chopping? Whether it was a deliberate attempt to create panic among the public in general and the women folk in particular? If Yes then who were the architects? What led to the sudden decrease of these incidents? Has incidents of braid chopping exposed the inability and lack of professionalism in J&K Police? The state Police has to address these certain questions in order to keep its self-claimed and so called tag of being credible and public friendly force.
Author is Journalist hailing from Bandipora District and can be mailed at sofizahoor777@gmail.com. Views are Authors Personal