Appeals for more assistance to the affected families
Srinagar, October 30: J&K Yateem Foundation (JKYF) Bandipora unit distributed relief kits including grocery items, blankets etc among 33 families comprising more than 250 souls who were recently affected due to massive fire incident at Kilshey Tetri village and two other villages of Tulail in Gurez area along Line of Control (LoC) in north Kashmir's Bandipora district.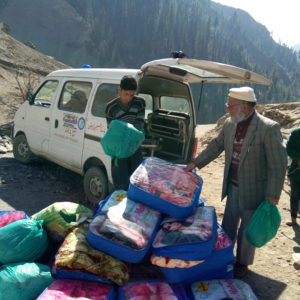 The villages are situated around 170 Kms from Srinagar headquarters. Officials said an amount of about Rs 50 thousand was incurred by the local Unit for the arrangement of relief kits. "In addition, clothing including sweaters and other woollens donated by philanthropists was also distributed among the affected people," they said.
A team comprising JKYF Secretary Finance Mohammad Rafiq Lone, District Representative JKYF Bandipora Mohammad Yusuf Bhat, Central Executive Committee (CEC) Member Javaid Jawad, District Representative JKYF Baramulla Sheikh Abdul Gani and several other volunteers from Bandipora district visited the affected families and expressed sympathies with the affected people.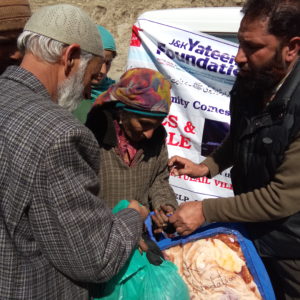 About 68 structures, including 28 residential houses, 10 non-residential houses, 10 cowsheds, one Masjid, two Government Primary Schools and ICDS Office building were gutted in a massive blaze in Kilshey Tetri village in the wee hours of October 21.
In addition, five other families were also affected in two separate fire incidents in Shikarigaon and Qureshpora villages in Tulail area during intervening night of 27th & 28th October.
Talking to JKYF volunteer team, the affected people appealed the philanthropists and humanitarian groups to take immediate steps to cater to the needs of shelter, fodder for cattle, tin roof sheets; woollen clothes and adequate essentials including rice and household utility items besides books, stationery and other support for the children who lost their schools.
JKYF plans 2nd consignment of relief items shortly for the affected people in such far flung areas affected by the natural calamity as the approaching winter disconnects the whole Gurez from rest of the Valley for several months. Those who are willing to contribute for the relief & rehabilitation of the affected people in Gurez may contact the JKYF Bandipora Unit on contact numbers: +91-9419672444, +91-9906403200 (Whatsapp), +91-7006119896 and email: javaidjawad@rocketmail.com
Pertinently, the whole area of Tulail and other areas in Gurez almost gets disconnected in December every year for several months due to heavy snowfall and other harsh weather conditions in winter.