Residents protest against PHE, demands action against officials
Waheed Bhat
Bandipora, October 19: The residents of Puj Mohalla Nowpora area of North Kashmir's Bandipora district are up in arms against Public Health Engineering Department for forcing them to drink impure water.
The residents on Saturday staged a protest demonstration against the officials of PHE for repeatedly ignoring their pleas of laying supply line underground. They said the department has laid pipeline in drains and due to leakage in pipes they are forced to drink impure water.
"Ten years before Pipes were installed in filthy drains by concerned department in the area and after some years pipes got damaged thus causing leakage forcing to drink filthy contaminated water," residents said.
They said the department since then failed to provide us sufficient supply of drinking water though the area is close to the filtration plant, he said.
After pressuring higher authorities, the locals somehow managed to release new pipes for the area hoping that the department will install them out of drains but ironically the department started work on laying pipes again in drains forcing locals to stage protest.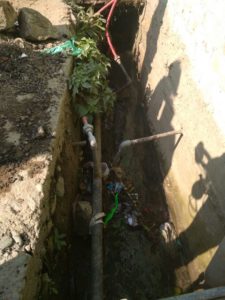 The locals early morning stopped work on laying pipes asking Contractor to leave the area as according to them he was again laying pipes in drain.
The residents later staged protest demonstration against the public health engineering department and asked authorities to lay pipes out from drains or stop work.
"We fail to understand for what department is laying pipes in drains again, when we have earlier faced a lot of problems because of pipes," said Mohammad Shafi Malik.