Srinagar, Sept 20: When J&K Football Association (JKFA) coined an idea to hold the final match of Bangus Valley Soccer tournament, in remote Bangus Valley, near Line of Control (LoC), nobody would have expected that thousands of fans will throng the venue.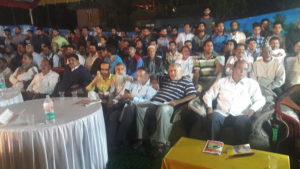 On the evening of September 18, when teams of Mohammaden Sports Sopore and SW Ashkura Baramulla clashed in the final at Baki Aker ground, Rajwar, not less than 20 thousand fans had gathered at the venue to witness the match played under lights. The organisers, District Football Association (DFA) Handwara, a unit of JKFA, had arranged the lights for the match with the help of gensets.
From boys, as young as eight years to senior citizens, the crowd thoroughly enjoyed the 60-minutes of high voltage football match at the place which is always in news for other reasons. From afternoon, people from adjoining areas of the venue, had started to gather at the place. They came in cars, bikes, trucks, tippers, load carriers and whatever form of transport they could. The festivity in the area made the people of remote area to forget about their day-to-day issues for some time.
"In my life time, I have never seen such a crowd in this area. Unfortunately, we have suffered immensely in the last 28-years due to close proximity of the area to the LoC. More than twenty thousand people gathering at one place and that too without any security arrangements in Kashmir these days is an achievement in itself," said Aijaz Sofi, chief patron DFA Kupwara.
"Our youth have immense talent, but unfortunately some vested interests outside the state label Kashmiris as stone-pelters. The reality is that Kashmiri youth has abundant talent and can shine like stars, if provided the right opportunities," he said.
The brain behind the revival of football in the state, Zamir Thakur, who is the president of JKFA, says that holding such an event in remote area near LoC is possible only due to the wholehearted support of people of Kashmir. "I along with office bearers of JKFA was present at the venue till 11:30 in the evening and I didn't feel that this place is close to the LoC. Such was the enthusiasm of the football fans that for a moment, we forgot whether we are near border or in Srinagar."
Thakur, who is also Treasurer of All India Football Federation (AIFF), says that many such events are lined up in other remote areas of the state. "We want to take the game of football to every remote corner of the state as it is poor man's game. However, for that government needs to develop infrastructure in remote areas."