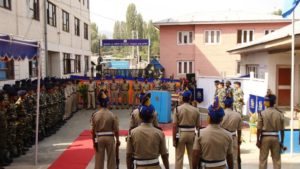 Baramulla , July 27: The Central Reserve Police Force (CRPF) today celebrated its 78th Anniversary today. The Anniversary Parade was organized at 53 BN,CRPF, DPL, Baramulla. Shri V.K Tiwari, Commandant of 53 Bn graced the occasion as Chief Guest and took salute. The chief guest hoisted CRPF flag and also addressed to all Gazetted officers, Subordinate officers and jawans on this auspicious occasion.
On this occasion, V.K Tiwari Commandant presented 02 DG Disc for operational duties, 105 Internal Security Service Medals for completion of two year service in J&K region and also felicitated NOK's of Martyrs of CRPF & also heard their grievances in person. A cricket match was played between DIGP NKOR BLA CRPF and 53 Bn CRPF. In the evening a cultural programme was organized by 53 Bn CRPF personnel followed by Bada khana in which DC Baramulla, SSP, SP, Senior army officers & prominent civil dignitaries were invited in the unit location.
Praising the conspicuous bravery, courage and valour of the soldiers, V.K Tiwari, Commandant of 53 Bn said that he felt honored to be the chief guest of the Parade. Recounting the historic feats of gallantry of CRPF he said that the Force has not only established peace in the country but also abroad, wherever it was deployed. It bore the brunt of Chinese and Pakistani attacks and repulsed them despite many odds. Their sacrifice has become source of inspiration to all of us. He said that CRPF is maintaining law & order, providing security during elections to combating Maoism, terrorism and insurgency. The Commandant emphasized on the modernization of the Force and said that for this a comprehensive plan has been prepared. He also said that the govt. is committed to the welfare of CRPF personnel and priority is being given to such proposals.
Kaping Gil, 2I/C of 53 Bn proposed Vote of Thanks. Earlier the Commandant laid a wreath at the "Shahid Smarak"