DGP takes up issue with Core Commander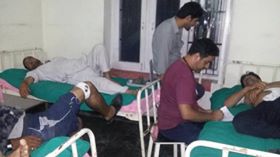 Ganderbal, July 22, CNS: At least seven policemen including two officers were wounded when soldiers from two army camps in Central Kashmir's Ganderbal district barged into a local police station in the middle of the night, creating havoc inside the station, even not sparing the Station House Officer.
Police sources informed that after the attack on Amarnath pilgrims in South Kashmir on July 10 this month, authorities had issued directions to police not to allow any vehicle carrying pilgrims from Baltal towards Srinagar during evening hours.
At around 10 on Friday evening, a police naka party stopped four Sumo vehicles near Glacial Hotel in Sonamarg that were coming from Baltal. The 32 persons on board in civvies whom police took as pilgrims were asked to drive back towards Baltal Base Camp. However, much surprise to the police naka party, the men in plain clothes entered into an argument with them and even tried to assault them. These men while over ruling the orders of the police stepped the barricades and moved towards their destination.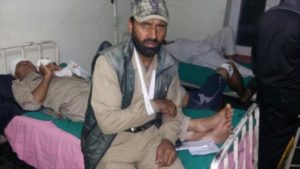 Police sources said that the naka party informed police control room Ganderbal that passed the message to Police Station Gund, asking the Station Head to stop the pilgrims from moving towards Srinagar.
A naka party from Police Station Gund stopped all these 4 Sumo vehicles near main market Gund, however, the men on board once again entered into an argument with the policemen. The brawl between these men and the cops attracted the attention of local population who arrived on the spot and tried to pacify the pilgrims who later on turned out to be the men from 24 Rashtriya Rifles from Indian Army.
Police that was still unaware about the identity of these 32 men travelling in plain clothes in private Sumo vehicles took them to police station Gund where Station House Officer asked them to wait till wee hours.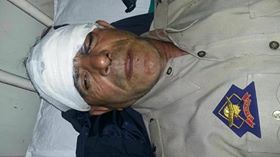 Station House Officer Police Station Gund Sajad Ahmed Khandey told news agency CNS that within a span of half an hour they brought these men into the police station, army parties from Mamar and Surfraw camps barged into police station and started beating the cops. "These army men who belonged to 24 Rashtriya Rifles not only assaulted and thrashed cops but also ransacked the police station. Seven cops including two officers were wounded into the attack," Khandey said.
The assailant army men also slapped the Station House Officer. They barged into his private room and damaged the electronic gadgets including lap top there. The assailants also damaged a private Scorpio (JK01M-8421) and deflated and damaged the tyres of police vehicle (JK01X-8354).
After creating havoc inside the police station, the army men before leaving the place took along all the 32 men in plain clothes.
Two FIR's have been lodged against army in this regard. Police Station Sonmarg has lodged an FIR vide number 9/2017 under 353 RPC while an FIR vide number 18/2017 under section 147, 148, 307, 323, 353, 332, 452, 427, 120B RPC stands registered at police station Gund that falls in the Kangan tehsil of Central Kashmir's Ganderbal district.
The wounded policemen who have been hospitalized were identified as Assistant Sub Inspector Bashir Ahmed (558/Gbl), Assistant Sub Inspector Ghulam Rasool (26/Tr), Head Constable Abdul Hamid (1166/Gbl), Constable Altaf Hussain (629/Gbl), Constable Abdul Rashid (633/Gbl), Constable Shakoor Ahmed (1240/Gbl) and Muhammad Aslam 1259/Gbl).
Srinagar based Defense Spokesperson released a statement that reads: "A minor altercation took place yesterday night between some Army personnel returning from Amarnath Yatra in civil dress and JKP personnel at Gund. No major injuries were suffered in the incident and the matter has been resolved by personal intervention of senior officers. Measures to prevent recurrence have been taken."
Meanwhile, Jammu Kashmir Police issued a statement in this regard that reads: "During intervening night of 21/22-07-2017 a group of above 30 personnel of 24 RR in civvies travelling in 04 different vehicles escaped forcibly from the NAkA point established by police station Sonmarg at Poney Stand. The said vehicles carrying the army personnel, who were coming back after Yatra. Due to the already issued cut off timing and present circumstance it was not feasible to allow Yatries after cut off time."
"The NAKA party of P/S Gund Ganderbal headed by ASI Gh Rasool No.26/T stopped the said vehicles as per the directions. However the personnel, who were in civvies without showing any identification came down from the vehicles and started thrashing the on duty officer and other officials, resulting injuries to said ASI on spot. After that army parties of COB Gund and COB Surbraw 24 RR headed by captain Shukla along with the personnel in civvies entered in P/S Gund and thrashed/injured all the police personnel present in the P/S and damaged some records of P/S Gund Ganderbal as well as some belongings of officials."
"In this regard case FIR No. 18/2017 U/S 147, 148,307 ,323, 332, 353,427, 120-B RPC has been registered."
Director General of Police Dr SP Ved told CNS that he has talked to army core commander who has sought an internal court of inquiry into the incident. (CNS)