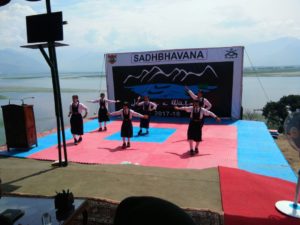 Bandipora, JULY 05. The ongoing "Jashn-e-Wular" festival which incorporates a series of sports events have surely got the attention of locals in the Valley. People of all ages thronged the Venue of the Mega Event.
On the second day of this three day Mega Event, Jashn-e-Wular Run was flagged off by Commander, Watlab Sector, from Paribal Tekri. Youth of 21 local villages of ages between 16 and 22 participated in large numbers.
Officials said the participants ran through Ashtingoo, Kehnusa and finished at Watlab Ghat after covering distance of 11 km. "With over 60 participants competing for the first position, Rafeeq Ahmed Kohli of Panar village (Bandipora) secured first position with best timings of 44 minutes and 26 seconds,"
Officials said this is the first time an event like this was organised in the Area. After conduct of the Run, heats of Five Men and finals of Single Men categories of Khistie race were also organised.
He said 6th July will be the final day of "Jashn-e-Wular" and over 3000 local spectators are expected to attend. Enthusiasm of finalists, participation of Water Sports Association, AGS Bandipora, AGS Sopore and MARCOS (to conclude "Jashn-e-Wular") are going to make it an unforgettable event.