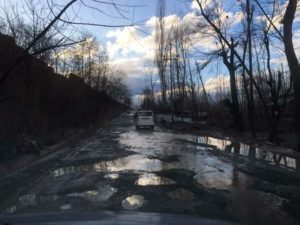 Waheed Bhat
Bandipora:- The residents of sonerwani village of north kashmirs Bandipora district today blocked Bandipora-Gurez road demanding better road connectivity to their village.
The residents early morning hit streets and blocked the vital Bandipora-Gurez road for hours to press their demands.
Chanting anti-administration slogans the residents said we have many times approached concerned authorities but our pleas fall on deaf ears.
"The road is in dilapidated condition from several years and we have approached authorities time to time but they are not paying any attention towards our problems, said a local, Irfan Hussain.
If there would be referral of any delivery patient she would deliver a baby half way this is the condition of the road if our demands are not fulfilled we won't let traffic ply on the road and we locals will start mass agitation,he said.
"We had given seven days of ultimatum to the authorities but they have failed to meet our demands and that forced us to come on roads,said another local, Bashir Ahmad.
He said the road is in dilapidated condition from 5 years and since then no patch work has been done causing immense problems to the commuters.
We have casted our votes for the betterment of our area but the representative has not paid any visit to the area ever since he won elections, locals said.
They appealed Chief Minister Mehbooba Mufti and Minister for Public works Nayeem Akhter for timely intervention so that local populace can have some relief.