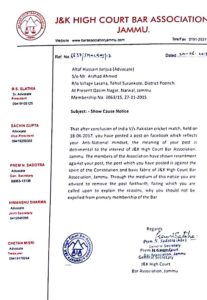 Jammu, June 20: Jammu High Court Bar Association has issued show cause notice to one of its members over a facebook post posted by the member during Final match of Champions Trophy between India-Pakistan.
General Secretary Prem N Sadotra issued the Show Cause notice against Advocate Altaf Hussain Janjua saying that after conclusion of India Vs Pakistan cricket match, he has posted a post on facebook which reflects Anti-NAtional mindset. "The meaning of your post is detrimental to the interest of JK High Court Bar Association Jammu. The members of the Association have shown resentment against your post,"reads the Show Cause notice. "The post which you have posted is against the spirit of the constitution and basic fabric of teh Association," it further reads.
The Association has warned the advocate that if he doesnt remove the post, action may be taken against him. "You are advised to remove the post forthwith, failing which you are called upon to explain the reasons , why yhou should not be expelled from primary membership of the Bar," reads the notice.