Rayan Naqash, Amir Rafiq bags award for reporting Human Rights, Science & Innovation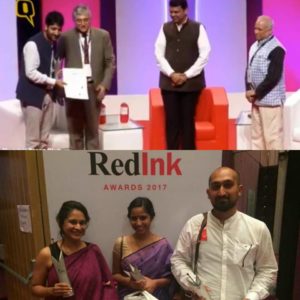 Waheed Bhat
Srinagar, June 08: Two Kashmiri journalists have bagged this years'Redink Award 2017 under the category Human Rights (Print) and Science and Innovation.
Kashmiri journalist Rayan Naqash won Red Ink award for his reporting on Kashmir conflict and 2016 unrest under the category- Human Rights (Print) here in Mumbai. Rayan started off his stint as reporter with Scroll. He has been working there for less than a year. He hails from HMT Srinagar and completed his graduation in Journalism from Degree College Baramulla.
Naqash won the award in the human rights category for a series of articles filed on the atmosphere in Kashmir after Hizbul Mujahideen commander Burhan Muzaffar Wani who was killed in July 2016.
His stories covered the media blackout in the state and how citizens coped with it.
Another journalist Aamir Rafiq Peerzada who hails from Panzigam area of North Kashmir's Bandipora district bagged the Redink award second time in a row.
Aamir this time has won Red Ink excellence in journalism award under Science and innovation category Broadcast, for a documentary film "lighting the Himalayas" which he shoot while he was a Reporter and producer with NDTV.
Last year he won the same award under sports category, but this year he has been felicitated with this award under Science and Innovation category for "Lighting the Himalayas".
Both the journalists were felicitated by Maharashtra Chief Minister and Mumbai press club chairman yesterday in a conference held at NCPA.
The documentary follows the journey of 20 people from 13 countries who came together to electrify a remote 1800 years old "Phugtal Monastry " in Zanaskar region of Jammu and Kashmir. "This monastery has never seen any grid based electricity till date because of its remoteness it was difficult for government to electrify it, that group was approached and got together by a Delhi based organisation Global Himalayan expeditions who till date have electrified over 30 remote villages in Ladakh region," Amir said while describing the documentary
Aamir says he is proud and honoured to receive this award second year in a row. "I think Indian journalists need such kind of motivation to keep going otherwise you know the situation current situation of media these days," he said.
Last year Aamir had also won Ramnath Goenka award for on spot reporting for his documentary 'Operation Everest' the award was felicitated by Prime minister of India in November 2016.
Aamir had his schooling from a central government's boarding school Jawahar Navodaya Vidyalaya Shahkote Baramulla, from where he dreamt of storytelling. "Story telling in audiovisual form is sometimes very difficult because we don't make fiction whatever we show is reality and filming reality means you have to live that first, feel that first then only you can present it to the wider audience and sometimes it is dangerous also " says Aamir.