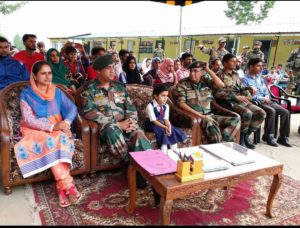 SUHAIL RATHER
Bandipora, May 26: The North Kashmir's kick boxing championship organised by Army concluded in Bandipora on Friday.
Commanding Officer 14 RR in a statement said that, the focus of the camp was to generate more awareness on the sport and reinforce a sense of sporting spirit amongst the youth and motivate them towards excellence in the field of Kick-boxing.
He said the participants were upbeat at the prospects of meeting Kick boxing champion Tajamul who has become synonymous with not only this sport but also excellence and is the pride of an entire nation.
The Kick Boxing Championship 2017-18" was organised by Bandipora Rashtriya Rifles Battalion at Army Goodwill School Bandipora from 24-26 May 2017. The event was organised for three main age categories and were further divided into 14 weight category for Boys and Girls thus making a total 28 weight category.
A total of 253 competitors including 158 boys and 95 Girls hailing from different districts of North Kashmir participated in the event.
A total of 211 bouts were played over three days of the tournament competitors displayed a great example of stamina, courage and sportsmanship during the entire event.
06 years old Sheikh Hamza was the youngest competitors while 24 Years old Uzaib Ahmed Malla was the oldest.
Final were played at AGS Bandipora and was witnessed by a large audience including Commander Watlab Sector who gave away the prizes to the winners.
Following the event, Cash prize were awarded to winners and Runners up of each category. In addition to Gold & Silver medals.
Ali Sports Academy team secured the team winner trophy. AGS Bandipora team secured team first runner up trophy while Budgam team secured team second runner up trophy.