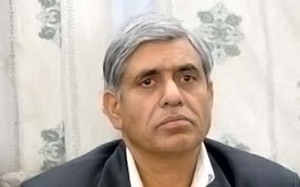 Srinagar, May, 16:: Nizamududdin Bhat Vice Chairman Handloom and Handicraft Development Corporations has expressed deep concern over the plight of employees and stagnation in the development , growth and productivity in the two vital sectors of social need and importance.
While taking review of the corporations here he said that unrest and 2016 follds have taken a heavy toll of the corporations damaging its infrastructure and adversely effecting production and sales of the handloom and handicraft goods. But more damaging has been the delay in acknowledging the economic viability and employability of the two corporations . , he observed adding " Government support to get the two organizations out of trouble is needed the most. "
Bhat appreciated the resilience of the workers , staff and officers who he said are grappling with hardships to raise the stock of the corporations and lend these the desired status of income generating units. He said the Chief Minister and Minister for Industries have time and agains stressed for revival and expressed hope that the corporations will get required push to come over difficulties.
VC said large number of weavers , artisans , embroiders and spinners unfortunately remain idle as they donot get enough support to turn their skills into a full time income oriented jobs. He said non availability of raw material remains an impediment which needs to be looked into.
Bhat assured the workers and artisans that with their support and cooperation the coporations will play a key role to boost the economy of the state and employment generation. He said every skilled labour and artisan is an asset who safeguard the age ols tradition of importance and society owes it to them that they get financial security and opportunities to grow for larger good the art and skill.
Bhat said need has emerged for Jammd and Kashmir Government to take a pragmatic approach and realize the urgency to take care of Handloom and Handicraft sectors like that of tourism , horticulture or other productive sectors.
It was revealed in the meeting that Handloom Development cOrporation has worked out an annual plan of Rs. 12 vrores for providing sustained employment to weavers , artisans , embroiders , spinners and other workers and once the funds are made available the health of the corporation will change. Similarly handicrafts sector will require assistance to take off afresh for increasing the productions and sale.
Bhat said that two coprporations will soon launch a campaign for awareness among the workers and employees for self-reliance as also for quality improvement , besides increasing production so that glory of the two sectors is restored