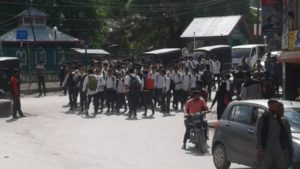 Bandipora students protest continues 2nd day.
Waheed Bhat
The students of High School Bagh Bandipora of North Kashmir district today staged protest demonstration demanding action against security forces involved in pulwama college incident.
The student chanting anti india and pro freedom slogans carried out protest rally from school premises to kaloosa passing through main town Bandipora.
Earlier yesterday, the students of NM Hr Secondry school Bandipora where teargased by police who had carried out protest rally in solidarity with pulwama students.