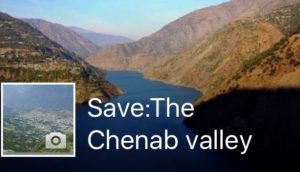 Kishtwar, April 06:A group of youth from erstwhile district Doda which is also popularly known as Chenab valley have started an online campaign save:The Chenab valley to mobilise the public opinion regarding the dilapidated and tattered conditions of this serene valley,the inhabitants of which are worse sufferers of government apathy.
The overall scenario of Chenab valley is in worst state owing to deadly roads,poor health services,extreme power scarcity,low educational standards,non existence of essentials and other other umpteen issues languishing the common man.
The roads of the valley are in deadliest state and earned the notoriety of death tracks in the entire state.the 90 km road stretch from Kishtwar to Batote has almost sunken and rest of the lacuna is filled by landslides and shooting stones.
"This particular road stretch has consumed thousands of lives and the graph of fatality is almost highest in the country.this killer road has destroyed hundreds of homes and bore thousands of orphans and widows across the length and breadth of valley".said one of the volunteer."we loose precious lives due to deadly accidents,pregnant women,accident patients who couldn't be shifted to nearest hospitals due to poor and shambled road connectivity."said another pioneer advocate Babur Ul Islam of the movement from doda district.
Besides these issues there are grave issues of poor health facilities,spurious drugs,drug addiction,hoarding and corruption at every door step.Rued another volunteer from Kishtwar.
It is pertinent to mention that the power projects and their unscientific ways of execution has detroyed the ecology of Chenab valley besides destroying roads environment and natural resources of the valley.
The group of volunteers who have come to the fore decided to start the compaign from #betterroadsforchenabvalley to other issues in the coming time.
"We will mobilise the public opinion through social media,meeting the stake holders,RTI,virulent compaign through print and electronic media and if need be file a PIL in high court to ascertain the previous facts and research as to how the valley lost its prestine glory due to uncalled and unscientific ways of execution"said Rashid Zafar Doolwal a renowned Supreme Court lawyer and social worker of international repute from Kishtwar based in Mumbai.
Those who have volunteered to champion this noble cause are the youth from Kishtwar Doda Bhaderwah and Ramban districts with the pioneering efforts of Rashid Zafar,sheikh Imran,Muneeb Qasim, Moosa Raies,Babur ur Islam, malik Tanveer ahmad, Malik Mohd Umar,Babar Wani, Arsalan, Rashid baba and others who will campaign vociferously to educate and mobilise the masses.