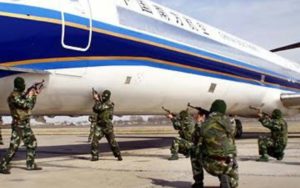 Srinagar,  April 03: The anti-hijacking team of JK police at Sheikh-ul-Alam International Airport  has foiled a possible hijacking attempt as it arrested a soldier of Indian Army with two live grenades at the airport.
Reports said that a rifleman of India Army identified as Bhupal Mukhia,  a resident of Darjeeling had booked ticket to New Delhi but was arrested by the anti hijacking squad after two live grenades were found in his possession. Army personal can not take arms with him when on leave.
The squad handed over the accused to Humhama Police station for interrogation. Sources said Police is investigating how the army personal carried ammunition with him from the camp he was stationed at and how he managed to smuggle arms from his own army camp while he was going to his home on leave.
The possible attempt to hijack a plane can also not be ruled out as Police,  according to sources,  is also investigating that angle.  "Police will investigate the real  aim of the accused for carrying weapons and is looking in all possibilities, " he said.
It is pertinent to mention here that on 30 January 1971,  an Indian Airlines Fokker F27 Friendship aircraft named Ganga flying from Srinagar to Jammu was hijacked by two persons, Hashim Qureshi and his cousin Ashraf Qureshi.  The hijacking lead to conflict between India and Pakistan that ultimately ended up with the creation of Bangladesh.  Many analysts believe that the hijacking was backed by Indian Intelligence agency RAW  to  facilitate embargo on Pakistan planes over Indian skies that made West Pakistan difficult to communicate with East Pakistan (Bangladesh)
Police today arrested one army personal at civil airport srinagar after he was found carrying 2 live grenades.After arresting him the anti hijacking squad at airport handed him over to police custody at Hummama police station for interrogation.The arrested personal has been identified as Rifle man, Bhupal Mukhia, resident of village Bhosoli Gaom Teh Kurseong distt Darjeeling