Stresses consumers to remain aware of rights, entitlements
JAMMU, MARCH 17: Minister for Food, Civil Supplies, and Consumer Affairs Choudhary Zulfkar Ali on Friday said today's world is a consumer driven world where consumer is a "king" around whom the whole business world revolves.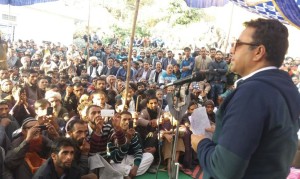 While observing "World Consumer's Right Day" here at Modern Institute of Engineering and Technology (MIET), the Minister said that today's world is consumer driven world, where both national as well as international companies are spending millions to lure the consumer towards their product.
Mr. Zulfkar Ali said being the king of whole business world it necessary that the consumer remains well aware with his rights and entitlements.
The Minister said an aware consumer is an "asset" that not only protects but also helps to build a strong and a better nation.
Deliberating on theme "Consumers Rights in the Digital Age" for this year World Consumer Rights Day (WCRD), the Minister informed the gathering that in 90s only one percent of population in India was using telephone, but today smart phone users alone have crossed the figure of 220 million, making India the second-biggest smart phone market in the world after US.
He said likewise in terms of using Google search engine, and social networking site like Facebook India stands at number two position after US in the world.
The Minister said that technology is fast developing and to be at par with the advancement it is imperative that everyone embraces it wholeheartedly. Keeping this in mind, the Minister said he from the day one after taking charge of FCS&CA department decided to revolutionize the department by "digitalizing" it.
"When I took over the department, everything was done manually. However, I ensured that the entire state population gets digitized with FCS&CA," the Minister said, adding today if a consumer wants to get his ration card, he can simply go to the department's website and download it from there. He said it saves everyone time and hassle of running around offices.
The Minister said on number of occasion in his both formal and informal interactions with business community, he has tried to make them understand for why it is important to be genuine in their business transactions with their consumers.
Mr. Zulfkar Ali said each one of us is a consumer at some point of time during a day. He said we could be a supplier or manufacturer, or service provider for one item.  If we sell our products at exuberant prices, or sell adulterated food items, we cannot expect that the sellers of rest of 99 products that we are buying to be genuine in their transactions.
The Minister attributed young engineering students present in the function as the future of nation, and said these youngsters would become future leaders, business tycoons, or technical expertise in their respective fields. It therefore important that they remain aware with their rights as consumers today so that tomorrow when they become manufacturers, or sellers or service providers, they could deliver their responsibilities in a better manner.
Highlighting the need to make intention of Consumer Rights Day (CRD) programme a success, the Minister said government with limited human resource at its disposal does makes every possible effort to carry forward the message CRD brings, however, without peoples support it is not possible to achieve the real goal it envisages. He said government can make law however, its implementation totally depends on the support from the society.
Mr. Zulfkar Ali said instead of cringing at home about everything wrong happening in the society, it is better something is done in this regard. He said there are various agencies like FCS&CA, or consumer courts people can come to get their grievances addressed.
Earlier, other speakers that deliberated on the topic also highlighted the need for raising awareness among masses. They also impressed upon government to implement and strengthen the consumer protection laws.
Besides, the students of MIET also gave some presentations regarding digital consumer rights. In the end the Minister also distributed mementos among the students, and also presented a memento to Director MIET Director, MIET Ankur Gupta for observing the function in his college.
Director, FCS&CA G S Chib, Assistant Controller Drug and Food, President Consumer Welfare Association Engineer Vikram Gour, Director Academics MIET, S K Sharma, along with members from other associations were present in the function.