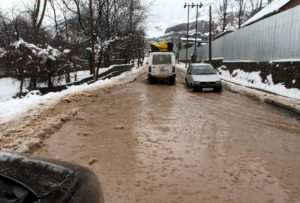 SUHAIL RATHER
Bandipora, 18 March 2017:Bandipora contractors Association has given an ultimatum to state government of 12 days to repair Srinagar-Bandipora road failing which they will boycott Government works.
This was stated by President of the Contractors Association Naseer Ahmad Mir. "with regard to the subject #betterroadsforbandipora an emergency meeting was held under the supervision of President Contractor Association Bandipora in which we gave deadline upto 31th of March 2017 with regard to the start of work on Bandipora Srinagar road," he said.
 He warned the District Administration and State Government that if work on said road will not get initiated,  all tenders and other development works in Bandipora district will come under halt.
The association has decided not take up tenders worth cores for various developmental projects in Bandipora unless government starts work on Srinagar-Bandipora road.
The statement has come after the youth of Bandipora launched an online campaign against the dilapidated condition of road which was later endorsed by Traders Federation Bandipora and different trade and employee's unions.
The campaign #betterroadsforBandipora is gaining momentum with every stake holder joining the campaign thus building pressure on the government to permanently resolve the long pending issue of the road