Will seek help of local contractors to get it repaired:Prez TFB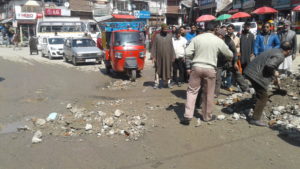 Waheed Bhat
Bandipora,  March 18: As the state government failed to repair the Bandipora-Srinagar road after protests,  the traders in Bandipora have started repairing roads of their own and on Saturday they started the work from the town square-Gulshan Chowk.
After youth launched #BetterRoadsForBandipora online campaign on Facebook,  Locals had warned government to repair the road at earliest. However according to traders,  the government again failed to keep promise and hence have started work themselves.
The leaders of Traders federation Bandipora said they are going to pool money and will start the work by  filling potholes first.
The traders today assembled in Gulshan Chowk Bandipora and filled the potholes which was causing inconvenience for public as well as transporters and had announced to start work on repairmanent of road till Sumbal.
The traders had earlier organised an event asking government to repair the Bandipora-Srinagar which is in dilapidated condition from several years and had in the event given ultimatum to government of 2 weeks to start work on road but the traders allege that  government paid deaf ears and has verbally made big statements but nothing was done on ground.
"The road is in the worst condition at several places, there are huge potholes which are deep and cause severe waterlogging forcing commuters  to change the route,"saud a trader.
He said despite several requests made by traders and locals to the administration, the road continues to remain in shambles and nothing is being done.
The local youths also received  cold response from the state government who had earlier started an hashtag campaign #BetterRoadsForBandipora.
President Traders Federation Bandipora, Shamshad Ahmad said,The district administration and State government has totally failed to take an step to repair the Bandipora-Srinagar road forcing us to  to initiate a proper program for repairmanent of road.
He said they are in contact with the local contractors and engineers who will help them to get the road repaired.  He said they will seek donations from people of the district and soon teams will be dispatched to various towns of the district to collect donations.
"This is a beginning and it will end until we will not fix all the potholes till Sumbal, we have seen fake promises from government and they have miserably  failed.  what's the fun of paying  attention towards their publicity stunts? " he questioned.