Partners with Sakhawat Centre for the fourth time under its "Gift-a-Smile" initiative
Srinagar, Mar 16: Vodafone India, one of India's leading telecommunications service providers, organised its 'giving initiative' during the holy month of Ramzan last year as it commemorated the holy month of Ramzan by invoking its 'spirit of giving'.
Under this 'giving gesture' conducted every year to help facilitate education of underprivileged children in J&K, Vodafone has donated a grand sum of Rs 23.7 lakh over the course of four years to Sakhawat Centre, run by Iqbal Memorial Trust, an NGO in Srinagar, for this noble cause.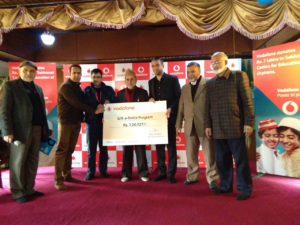 The 'giving gesture' by Vodafone for the noble cause of supporting education of needy children in J&K embodies the 'spirit of giving' associated with the holy month of Ramzan in its true sense. This is the fourth time when Vodafone has raised funds for education of needy children in J&K as part of its 'giving gesture' on Ramzan. As part of its tie-up with the Sakhawat Centre for this cause, Vodafone donated 1 paisa for every outgoing call or recharge and Rs. 5 for every new activation in the Kashmir province during the entire month of Ramzan last year (starting June 07, 2016). It is needless to iterate that Vodafone does NOT charge anything from the customer for this program.
Through this initiative, Vodafone generated a sum of Rs 7 lakh under this very noble 'giving gesture' organized during the holy month of Ramzan last year, which it has donated to the Sakhawat Centre to support the academic pursuits of underprivileged children of J&K.
With growth in subscriber base year on year the amount of donation has also seen growth. In the first year of this initiative in 2013, Vodafone had made donations worth Rs 4.58 lakh, second year it grew up to Rs 5.42 lakh and in third year i.e. 2015 Vodafone contributed Rs 6.7 lakhs. This initiative is part of Vodafone's "Gift-a-Smile" programme which sees Vodafone undertake various such projects throughout the year. While some of these initiatives are intended to gift smiles and happiness to those in need, others seek to bring cheers to the valued customers of Vodafone. Under the "Gift-a-Smile" programme, Vodafone had donated laptops to the Sakhawat Centre in Srinagar earlier to facilitate computer literacy among underprivileged children.
Sharing his thoughts on this noble initiative, Rajat Avasthi, Business Head- Punjab, Jammu & Kashmir and Himachal Pradesh, Vodafone India said, "As a people-centric organization, Vodafone always works towards being a meaningful contributor to society.   To empower the underprivileged children in J&K and to support their development, we at Vodafone pioneered the 'giving initiative' in the pious month of Ramzan in the year 2013. Each year, we have embraced the 'giving spirit' of Ramzan and donated money for this cause which can help bring about a positive change in the lives of underprivileged children. Today, we have donated Rs 7 lakhs to Sakhawat Centre, taking our contribution to Rs 23.7 lakh over the years for this initiative.  We are happy with our association with Sakhawat Centre, who help us ensure that this money is used for education of underprivileged children."
The cheque was handed over to Dr. Yusuf-ul-Omer, Administrator, Sakhawat Centre (under Iqbal Memorial Trust) and Mir Mohammad Ashraf, Secretary Sakhawat Centre (under Iqbal Memorial Trust) at a ceremony held at Iqbal memorial centre, Bemina, Srinagar, today.
Expressing his views on the initiative, Dr. Yusuf-ul-Omer, Administrator, Sakhawat Centre (under Iqbal Memorial Trust) said, "Helping with the education of underprivileged children of Kashmir is a very noble task which Vodafone has taken upon itself. This initiative will empower these children to create a better tomorrow for themselves which in turn will contribute to the development of J&K. We are very happy to associate with Vodafone and hope that this association continues for years to come which will help us in jointly working for the development of the needy children."
Iqbal Memorial Trust has been working to rehabilitate the lives of thousands of destitutes and orphans in J&K through a well-spread network of volunteers and service centres. With an objective of making its social welfare activities more broad-based, the Trust had set up the Sakhawat Centre, J&K in June 2005. This social institution has since been helping orphans, widows and other weaker sections of the society lead a dignified life.