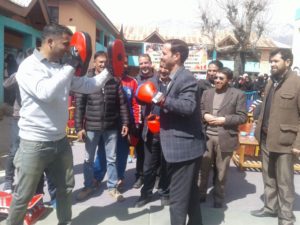 Waheed Bhat 
Bandipora, March 14:- The 10-day Self-defence coaching camp for girls was today kick-started by District Development Commissioner Bandipora, Sajad Hussain Ganie at Government Girls Higher Secondary School Plan Bandipora area .
The Coaching Camp is being organised by Department of Education Bandipora in collaboration with Ali's Sports Academy under RMSA scheme.
An official said, that about 2000 girl students will be imparted necessary training of self defence at various schools during the training programme in the district.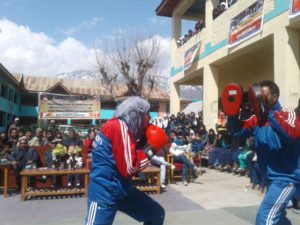 District  Development Commissioner Bandipora Sajjad Hussain Ganie,speaking on the occasion, lauded the role of Education Department for conducting such training programme and taking lead in sports activities in the district.
He said the prime motive of this camp is to teach girls the techniques of self-defence to protect themselves. "We know that our girls these days are toiling hard.Every girl should learn martial art, because it is the need of the hour," said Sajjad.
Clad in blue head scarves, the girls were seen training in the camp with great enthusiasm. They said they were happy that such a training camp is being held in their school because earlier such camps were organised only in Srinagar and Jammu areas.
"On the first day we were imparted knowledge about kicking and punching. Over the next 9 days, we will be taught various other self defence skills," said Ruksana, a student. "The biggest advantage of getting trained in self defence is that it boosts your confidence," she added.
"Self defence is very important for everyone now. Not only girls who need to defend themselves most of the times, but crime in the state is on the rise and at times, even boys need to defend themselves from thugs and goons. Learning to defend oneself in such situations is important,she added.
"In times like this when crimes against women are soaring with every passing day, it's important that all know how to protect themselves,said another student,Ishrat Fayaz.
She further pointed out that one could not expect police to be around everywhere. Similarly, family members cannot accompany the girls wherever they went. "But there are men ready to harass girls everywhere. Therefore it is very important that the girls know how to protect themselves — something that they have realised now,Ishrat said.
Among others, Chief Education Officer Bandipora, Dy. Chief Eduaction Officer Bandipora, Principal of the school,physical Education teachers besides Asian karate Gold Medalist Hashim Mansoor and other students were present on the occasion.