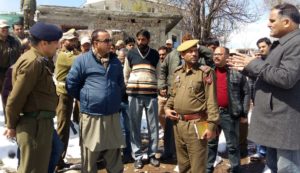 RAJOURI, MARCH 12: Minister for Food, Civil Supplies and Consumer Affairs, Chowdhary Zulfkar Ali today conducted an extensive tour of Budhal and Kotranka to take stock of post snowfall situation and relief measures undertaken by various departments for mitigating weather related problems.
The Ministers held a meeting with district administration for assessing weather related problems and steps taken for ensuring safety and security of people residing in snowbound and landslide prone areas.
Deputy Commissioner informed the Minister that proper arrangements are in place for tackling any emergent situation.
The Ministers directed officials of BRO and PWD for taking all necessary measures for keeping major roads and emergency routes functional especially in the upper reaches.
For catering to day to day requirements of the people, the Minister issued strict instructions for keeping adequate stocks of ration, kerosene oil and LPG cylinders available besides ensuring timely distribution especially to the settlements in the upper reaches and far flung areas.
Taking stock of healthcare facilities, the Minister directed maintenance of adequate medicine supply besides ensuring regular attendance of medical personnel in government health institutions.
Later, addressing a mammoth gathering at Phalni, the Minister said that with efforts of the government the state is moving ahead with great enthusiasm on a path of development and many mega developmental projects have been taken up which have started yielding results on the ground. "There is a visible change in the state with respect to development and people are well aware of this developmental era", he said.
Citing example of Darhal constituency the Minister said that developmental projects of Rs 700 crore have been taken up in the area including opening of Government Medical College, construction of Khawas road and Budhal-Shopian road which will act as a catalyst for the development of the region.
District Development Commissioner, Shabir Ahmed Bhat, SSP Suleman Choudhary, Executive Engineers of PHE Nissar Khan, PWD Sadeeq Wani, PDD Ashok Parihar, Assistant Commissioner Development Noor Alam, Assistant Director FCS&CA Javeed Ahmed, beside all other district officers accompanied the Minister.