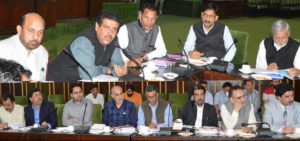 JAMMU, MARCH 06: A meeting of Committee on Subordinate Legislation of Jammu and Kashmir Legislative Assembly was held today under the Chairmanship of MLA, Bashir Ahmed Dar.
Threadbare discussion was held in connection with the examining and scrutinizing the rules, regulations, bye-laws etc of Rural Development Department.
Legislators, Mushtaq Ahmad Shah, Abdul Rahim Rather, Abdul Majid Larmi and Raja Manzoor Ahmed attended the meeting and gave their suggestions regarding further improvement in the Rural Development Department (RDD).
The Committee recommended that the MLAs should be designated Vice Chairmen of Block Development Council (BDC) so that they could ensure their active participation in developmental activities and Amendment of Departmental Rules because MLAs are people's representatives.
The Committee also discussed the rules of other schemes of the department including MGNREGA, IAY, Panchayati Raj Act besides discussing issues of employees.