Winner to be awarded Rs One Lac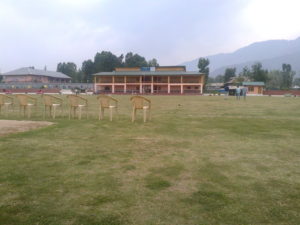 Waheed Bhat 
 Bandipora, March 06: Bandipora Cricket Forum which was restructured last year is all set to organise it's first ever cricket tourney in Bandipora. The Forum was restructured with an aim to promote Cricket  and to provide platform for young boys of Bandipora district.
Last year the forum could not organise any event in the district due to unrest in the valley with the onset of Spring season, the Forum  has a good news for Cricket Loving people of the district by organizing first ever high level tournament in the district.
The forum has named the tourney as "Ist Bandipora T20 Champions Trophy" Which will be  of 20-20 format and will be played with Red ball. The forum has asked teams to use white uniforms in this tournament owing to use of Red ball.
The Forum has announced 1 lac rupees cash award to winning team and Fifty thousand to runner up team while Man of series will get ten thousand cash award and Man of the match will get five thousand, said Irshad Ahmad Bhat, an official of the Forum.
Further the teams have been asked to enter their teams from 6th of March till 20th of March and the tournament will be started from 10th of April this year and 64 teams of the state will be given chance to play in this tournament.
In order to enter in the tournament, The teams have been asked to deposit Rs 7500 as entry fees at IEE ESS Sports Centre Bandipora and for further information teams can contact 9622752970 Irshad Ahmad personally. The tournament will be played at Sheri E Kashmir sports stadium Bandipora.
Attachments area