Appreciates their contribution in public service
JAMMU, FEBRUARY 28: Jammu and Kashmir Police today accorded warm send off to Inspectors General of Police, Mr. Yoginder Koul and Johny William who superannuated after serving the department for 33 years.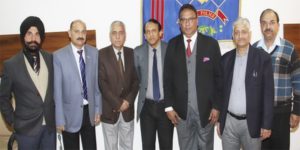 The farewell function was held at Police Headquarters here this afternoon. On this occasion, Additional Director General of Police (Headquarters), Mr. V. K. Singh, highlighted the contribution made by the superannuating officers and described them among most professional officers of the organization. He said that the dynamic police officers, by the dint of their dedication and valour, have always made JKP feel proud.
Mr. Singh, while lauding their contribution said that the officers worked on different assignments in the organization and always came up to the expectations of the senior officers and proved themselves sincere and dedicated officers, while delivery in the field of public service.
He said that the officers always remained available for the betterment of people and would be remembered for their capabilities in professional policing. He said that during their service, wherever they worked, took their assignments as challenge and faced it with fortitude. He said that their absence in the department would be realized at all times
Other speakers, IGP (Personnel), Mr. J. P. Singh and IGP (Headquarters), Mr. S. K. Gupta also appreciated the contribution of two IsGP in leading the police Organization towards heights. They said that their work in the Organization would serve as an inspiration for other officers.
Among other, the function was attended by IGP SL Sharma, AIsGP, Rahul Malik, JA Koul, Mubassir Latifi, Sameer Rekhi and Kulbir Singh, DDP, Pawan Gupta, JDP, Gowhar, DDB, Munish Dutta, Sr.ADO, Nasir Khan and other police officers.