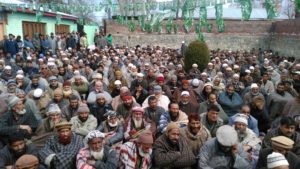 Bandipora, Feb 28: PDP General Secretary and Vice-Chairman State Horticulture Board Nizam-ud-din Bhat on Tuesday said that National Conference, Congress and Ikhwan are responsible for all ills and afflictions in Bandipora.
"Wular has been destroyed during the regime of NC-Congress as the funds meant for the development of Wular Lake were not utilized properly. They were negligent toward the deteriorating condition of the Lake. Same happened to Srinagar-Bandipora road as even the NHPC funds under CSR, which came in crores for the road, were misused," he said while addressing a party workers convention here.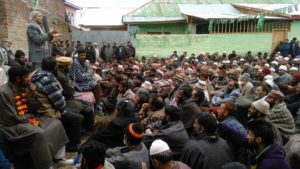 He said that the under construction Grid station at Putushai has also not been completed over a decade owing to the negligence of the NC-Congress government. "Funds under Tribal Sub-Plan (TSP) meant for Gujjar community of Bandipora were misused and despite hue and cry the funds under TSP were not provided. The NC-Congress regime left a trail of suffering for the innocent people of Bandipora," he said.
"NHPC funds under CSR which are to be spent on Nallah Madhumati are diverted and the project be made functional," he said while appealing the Chief Minister that the funds provide by NHPC under CSR are not in safe hands at the local level.
"There should be a complete watch on its spending and this money should not go waste like the money to PDC which was given for the upgradation of Srinagar-Bandipora road," he said.
He also sought cooperation of the people of the area in resolving the development issues confronting Bandipora.
Bhat made a fervent appeal to the Chief Minister Mehbooba Mufti and PWD Minister Nayeem Akhter to give full attention to Bandipora so that it can keep pace with the development.
He also said that politically stability and peace is must for the development of the state "It continues to be a hope for the resolution of the Kashmir issue and under the dynamic leadership of Mehbooba Mufti the agenda of resolution and reconciliation will be taken to its logical conclusion," he said.
Senior PDP leader and MLA Batamaloo Noor Muhammad also addressed the party workers where he asked them to make the party base strong and gear up for Panchayat elections.