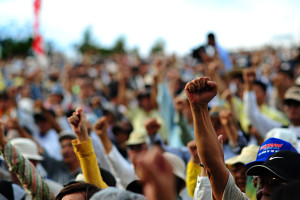 Executing court orders: Official
SRINAGAR | FEB 20 (PTK):Scores of Dal dwellers of Meer Behri stages protest today at press enclave against the Lakes and water ways development authority (LAWADA) allegedly for snatching their land.
They said that they are living there and the government is snatching our houses. Amid anti LAWDA slogans, protesters said, "LAWDA is trying to snatch our land which is the only thing we have and we are residing there. Where will we go".
They said that this include our agriculture land on which we survive our livelihood. They appealed the government to look into the matter to secure their livelihood.
When contacted, Secretary LAWDA, Ghulam Rasool Wani, told PTK that "Whatever is being done is for the preservation of Dal as per the direction of the High court".
He said, "The court has set a fixed compensation for all Dal dweller's agriculture land or any other type. We are executing court orders". He said that there are some dwellers not ready to give land, demanding enhancement in to the compensation.
Keeping in the view the demand of the inhabitants, we have written to the government for the enhancement of compensation", he said. Adding that the, high court has referred it for monitoring committee, headed by the chief Secretary of government to look into employment issues besides compensation of these dwellers.
Wani said, the department has already acquired 80% of land for the project of shifting houseboats to develop infrastructure.    He adds that the rest of land has to be also acquired after their genuine demands are addressed.