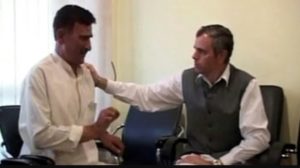 Bandipora,  February 18: Policemen Abdul Ahad Jan, who threw shoe on Ex Chief Minister Omar Abdullah on August 15, 2010 during flag hoisting ceremony,  died on Saturday morning  at his home town Ajas, Bandipora.
One of his son said that he died of kidney failure he added that Jan lost his kidneys after allegedly  facing torture following the shoe throwing incident.
Ahad Jan hurled a shoe at the then chief minster Omar Abdullah soon after he unfurled the tricolor at Independence Day function in 2010.
The then Chief Minister had later freed Ahad Jan and also met him. However he was dismissed from the services by the Police Department later.
This was the first case of shoe hurling incident in the State of Jammu and Kashmir.