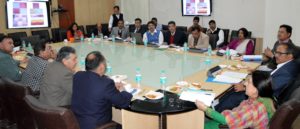 JAMMU, FEBRUARY 16: Deputy Chief Minister, Dr Nirmal Singh today called for making use of latest and cost-effective technology in constructions to ensure putting in place speedy and economical infrastructure.
The Deputy Chief Minister was speaking at the 4th Board of Directors meeting of the Building Centers of Srinagar and Jammu.
Minister of State for Housing & Urban Development Ms Asiea Naqash was also present.
The Deputy Chief Minister called for using the innovative and cost-effective techniques in constructions to make housing facilities affordable for all. He said the technological interventions in building constructions would also address various other issues of the State since it comes under the high seismic zone area.
Dr Singh also directed the officers of the Municipal Corporations and those of Urban Local Bodies to get material and expertise from the building centres while undertaking construction of various developmental works and related infra. He said it will ensure the self-sustainability of these centres besides actively involving them in various developmental activities.
The Deputy CM asked the officers to also involve the building centres while implementing various government schemes like Housing for All (HAL), Construction of Individual Household Latrines and also in Swach Bharat Abhiyan. He said there should be formal directions for both the Municipal Corporations as well as Urban Local Bodies to procure the material prepared by the Building Centers for construction of lanes, drains and other related activities.
Commissioner Secretary Housing & Urban Development Department, Mr Hirdesh Kumar, VC JDA, Mr Mubarak Singh, MD Housing Board Ms Vipra Bahal, Director Urban Local Bodes, Jammu, Arun Kumar Sharma, Commissioner SMC, Dr Shafqat Khan, Directors of Building Centers, and other senior officers were present in the meeting.