Lok Adalat for timely deliverance of justice to the common masses: Justice Mir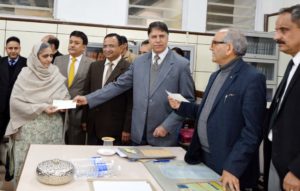 JAMMU, FEBRUARY 11: In a National Lok Adalats held across J&K, 9447 cases were disposed off and an amount of Rs 4.38 crore was awarded in MACT cases and Rs 4.5 crore was recovered in Bank recovery suits, Member Secretary JK Legal Services Authority JKSLSA, RN Watal said here today.
The Member Secretary said that the National Lok Adalat was held under the patronage of Chief Justice N Paul Vasanthakumar who is also patron-in-Chief of JKSLSA and also under the guidance of Justice Yaqoob Mir and Executive Chairman JKSLSA.
During the Lok Adalat, two benches were constituted each at Jammu and Srinagar. At Jammu wing a bench was headed by Justice O P Sharma (Retd) and assisted by Sanjeev Gupta, Special Judge Anti Corruption Jammu and other bench was constituted of Puneet Gupta, Special Judge CBI and Mr. R K Watal, Member, Special Tribunal Jammu.
Speaking on the occasion, Executive Chairman J&K SLSA Justice Mohammad Yaqoob Mir said the aim of Lok Adalat is to deliver justice to the common masses and more pending cases are disposed off for the benefit of the public.  Justice Mir was accompanied by Justice Alok Aradhe, Justice Tashi Rabastan and Janak Raj Kotwal. The Judges supervised and inspected the proceedings of National Lok Adalat at High Court Jammu and District Court Complex Jammu.  Member Secretary J&K SLSA R.N. Watal Registrar Judicial Mr Virendar Bahu, Mr. Ajay Gupta, Joint Registrar were also present.
R N Wattal said that a total number of eight benches were constituted at District Court Complex Jammu, he said.
The first bench was presided over of Jaffer Husain Beg, Presiding Officer, MACT and Meyank Gupta, 3rd Addl Munsiff, Jammu. The second bench was presided over by Rajesh Sekhri, Addl District Judge (Bank Cases) Jammu and Kishore Kumar, 3rd Addl Sessions Judge Jammu.
The third bench was headed by Subash Gupta, Addl. District Judge (Matrimonial Cases), Jammu and Kusum Lata Pandita, Sub-Judge Jammu. The fourth bench was headed by Yashpal Sharma, Spl Excise Magistrate Jammu and Madhu Khajura, 2nd Addl Munsiff Jammu. The fifth bench was headed by Sudhir Khajuria, Spl Electricity Magistrate Jammu and Arti Mohan, Spl MM (P Tax) Jammu.
The sixth bench at Jammu Railway Station was headed by Anoop Sharma, Spl. Railway Magistrate Jammu. The seventh bench was headed by Mohammad Rafiq Chak, Spl Municipal Magistrate Jammu and Arti Devi, Munsiff Jammu. The 8th bench was headed by S S Bali, Spl MM (Traffic) Jammu and Pervaiz Iqbal, Addl. Mobile Magistrate (Traffic).
At Tehsil headquarters at Bishnah, Akhnoor and R S Pura separate benches were constituted, which were presided over by chairman Tehsil Legal Service Authority. Chairman Tehsil legal service authority Jammu Sunit Gupta (CJM, Jammu ) and secretary District Legal service authority Adnan Syed Sub Registrar ,Jammu also actively participated in Lok Adalat.
As per direction, Additional District Magistrate, Jammu Arun Manhas also, constituted separate revenue benches at different revenue Tehsil head quarter and 249 revenue cases and cases under section 107/151 Cr PC were decided.
R N Wattal said a total number of 1884 were taken up, out of which 1399 have been decided in Jammu.
He said a total of Rs 21950000 were awarded in accidental claims cases; Rs 661330 in labor cases. A total recovery of Rs 36497980 was affected in bank cases and fine of Rs.2, 55,150 imposed in petty criminal cases.