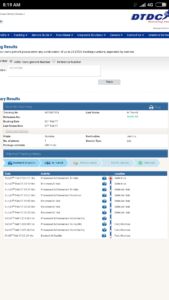 Srinagar, Feb 8, CNS: Leaving business ethics to wind, the 'Domestic Courier Service' (DTDC) courier service has misplaced important documents of a Srinagar-based private firm employee.
   "The documents were sent to him by his head office from Mumbai and were scheduled to reach Srinagar on 16th of January 2017, the employee, Muhammad Irfan, said.
"I was cheated by DTDC courier agency in Srinagar. My courier was carrying important documents and diaries," he told CNS.
"It is a violation of customer ethics and it is a complete embezzlement by the courier service."
The employee said that the website tracker shows the delivery date as 16th January 2017 which he said was a complete fraud.
The consignment's docket number was M45164903 and its pickup date from Mumbai was 5th of January 2017.
"They have faked the delivery date as 16th January 2017 at 1:12 PM. I didn't receive the courier, nor did I get any call. It is irony that the courier service has misplaced the documents and is now shrugging off their shoulders from responsibility."
Irfan said he talked to the representatives of the agency over phone but was not provided with any solution.
   "They connected me to every tom, dick and harry. They are blaming each other, but are tightlipped about the misplacement of my consignment,"
   Pertinently, Domestic Courier Service known DTDC in common parlance represents the basic services for handling deliveries in express and cargo mode in India. They also offer services for delivering documents and small parcels. (CNS