Khrew residents stage protest against cement factories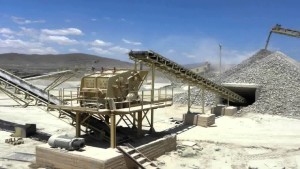 Srinagar, Feb 6, CNS: Demanding an end to pollution from cement factories and illegal mining in the area, hundreds of residents of Khrew in South Kashmir's Pulwama district Monday staged a protest here in Srinagar and alleged that a Cement Company has secured NOC for lime stone mining without public support.
    A large number of people from Naginder Khrew under the banner of local Auqaf Committee assembled here in Press Enclave Srinagar. Carrying placards and banners, the protesters claimed that M/S Dawar Cements has misled authorities and has secured No Objection Certificate for lime-stone mining with a capacity of 53000 TPA. "We don't know who provided NOC to the said company and why general public was not consulted before issuing NOC to the said company. This is injustice and a probe should be ordered to look into the matter and action should be initiated against the officials," the protesters told CNS. 
    "We are living in hell. The unabated pollution emanating from the cement factories is the source of health hazards. The illegal mining and the non-installation of pollution control devices have ruined us," they said.
    "The residents of Khrew, Babapora, Shaar, Zantrag, Pokhribal, Bathen, Nagender and Wuyen area have been suffering immensely for last many years due to the pollution by the cement factories. But no one is listening to us," the protesters said and added that they have lost all hopes on the government.
    "We want to know how the M/S Dawar Cement Company has obtained NOC and why government is not doing enough to check pollution menace in the area," they said. (CNS)