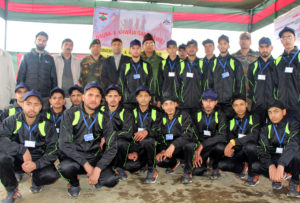 Baramulla 04 feb 2017: With an aim to integrate local population with the national mainstream, a Capacity Building Tour is being organised for the children of Baramulla District to Jaipur and Ajmer under the aegis of the Kilo Force.
The tour named as 'DAURA-E-KHWAJA' was flagged off at Uplona by the Commander of Haiderbeg based RR Sector , on 04 Feb 2017.
An official said twenty students, one teacher and five organising staff will be part of the tour.
The ceremony was also witnessed by prominent personalities from the area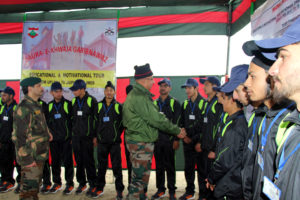 Mr Shoib Lone, ex MLC and Mr Syed Nissar Geelani , State president, Kissan Mazdoor Party (J &K) .The tour is planned for fifteen days from today.
The students will visit places like Jaigarh Fort, Moti Doongri, Nahargarh Fort, Birla Mandir , Jantar Mantar , Amber Fort ,City Palace and Hawa Mahal at Jaipur.  At Ajmer , the students will visit Dargah sharif , Sola Khamba , Shahan Jahan Mosque, Ana Sagar Lake,  Adhai Din ka Jhopra.
Spokesperson said the  tour provides an opportunity to these young impressionable minds to experience the diversity , pluralism and rich cultural heritage of the country.
The students will also get to interact with people outside the valley, thereby enabling them to identify more closely with their fellow countrymen.
During the flagging off ceremony, Commander interacted with the tour participants who were very excited and thrilled to be part of the tour.
Spokesperson said the participants were thankful to the Army for providing them with such opportunities which would expose them to the world outside the valley and broaden their horizon.