Quality adventure sports infrastructure to be created for creating sporting genius in JK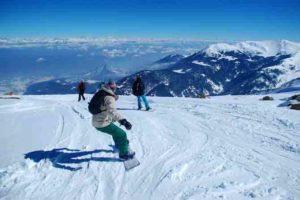 JAMMU, FEBRUARY 03: With an aim to promote adventure tourism across the State, Deputy Chief Minister, Dr. Nirmal Singh today said that Jammu and Kashmir would be developed into "best skiing destination."
While interacting with the skiing players at Gulmarg here, Dr Singh said that all the possible help would be provided to the skiing players to emerge into the sport.
Dr Singh also assured the players all logistic support and facilities to them so that they take up the sport on full time  basis and bring accolades to the state by participating at National and international level.
He said that players should get the best facilities at Adventure Sports Academy where they would help the players to hone their skills. He said that trainings should be provided to them under the Academy atmosphere and it would also offer opportunities to the youth of Jammu and Kashmir to train and excel in all forms of adventure sports. He said that the objectives organizing these events include introduction, initiation, encouragement, promotion and development of adventure sports in the picturesque State, along with creation of training facilities for adventure sports and development of quality adventure sports infrastructure.
The Deputy Chief Minister was accompanied by Vice-Chairman Kissan Board, Mr. D.S. Chib, Commissioner /Secretary, Housing and Urban Development, Mr Hridesh Kumar and other senior officers.