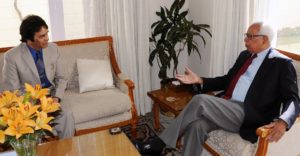 JAMMU, FEBRUARY 2: Dr. A.G. Ahangar, Director Sher-I-Kashmir Institute of Medical Sciences (SKIMS), called on Governor N.N. Vohra at the Raj Bhavan here.
Dr. Ahangar briefed the Governor about the functioning of the various Specialties in the Institute. He discussed the plans for its future growth, particularly the infrastructural development.
Recalling the erstwhile outstanding reputation of the Institute the Governor advised Dr. Ahangar to attract the best talent, upgrade teaching and research and ensure against any indiscipline among staff, students or the faculty. In this context Governor observed that he was continuing to receive complaints about infringement of the restriction on Private practice, which must not be allowed under any circumstances.