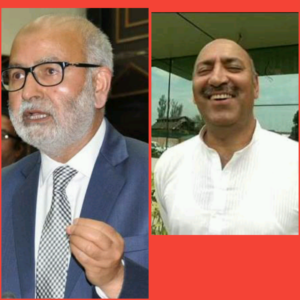 ---
---
KC News
Jammu,  January 28: Minister for Education Naeem Akthar today said that MLA Bandipora Usman Majeed has spiritual powers with which he can fly  to reach his constituency even if land and air traffic is blocked due to heavy snowfall in the valley.
Minister was responding to a statement made by the Congress legislator from Bandipora and former gunmen Usman Majeed wherein he criticised the PDP ministers for not participating in India's Republic day celebrations and not hoisting flags in the valley.
Responding to the criticism, Minister Naeem Akhtar said all the ministers were in Jammu as the assembly  session was going on. He said the government had made a schedule, according to that every minister was supposed to hoist tricolor at district headquarters. The ministers were scheduled to reach valley a day before the Republic Day, he added.
He said both the air as well as the ground traffic was closed  and hence it was impossioble for ministers to reach to their destinations.
''We dont have spiritual powers  with which we could have flown to valley and hoisted the flag there,''  he said.
Taking a dig at MLA Usman Majeed, the minister said, "Usman Majeed has done so many good deeds in his life that he might have acquired spiritual powers to fly as per his will and wish.
Earlier this month MLA  Batamaloo, Noor Muhammad Sheikh raised allegations on the floor of the House that he was abducted for ransom and was threatened to kill  by Usman Majeed who according to him was Deputy Commander of the Kuka Parray-led Ikhwan group.
The remarks enraged Usman Majeed who stormed into the Well of the House to register his protest and also moved privilege motion against the PDP legislator. Later Usman Majeed praised Kuka Parray and said that it is because of him that the leaders are fighting elections now as he made conducive atmosphere for  elections in 1996 in the state
tweet
Follow @KashmirConvener