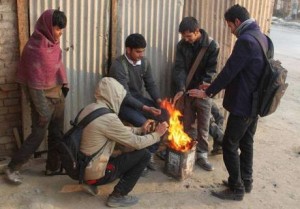 Bandipora | Jan 13 (PTK): Authorities of coaching centers bury guidelines and other necessary measures prescribed by administration on soil, the runners of these coaching centers continue to violate the rules. In Bandipora coaching centers are being operated by Government teachers and at the same time the coaching centers in Sumbal belt have failed to add basic facilities in coaching centers, for which student's criticize in length and breadth.
In coaching centers of Sumbal Sonawari, students complain of having no heating arrangements in winter.
The turning of coaching centers into business is being highly measured in district Bandipora where coaching authorities charge them hefty fees and fail to provide them basic accessibilities.
Sumbal town of Bandipora where recently an old age lady had sell his all gold asset only to enroll his son in a coaching centers, had met this reporter and said that despite we submit all amount in advance to these coaching centers they still don't available them basic facilities in the coaching center she said. Coaching centers are being running in minus zero temperature she added.
Tale goes here Aaliya student of 12th standard left's her home in early morning and get coaching of her medical stream she says that it is totally injustice with this generation that we are making our body freeze she says that coaching center's nowadays have become torture centers for us.
The menace is about course matting's, class rooms without windows panes, and classes without chairs; in winter no proper heating arrangements and no well furniture, in such circumstances students prefer to remain at homes instead of going to coaching in winter.
''More than 100 students sit in a room having a capacity for not more than 50 students, 'alleged GH Hassan, a parent of Sumbal.
There is not even a single Bukhari arrangement for students in this chilling winter said a student Mohammad Irfan who seek coaching in Hajin.
''I appeal education department to please take deep concern over the issue said a student a group of 2th medical student of Sumbal. (PTK)