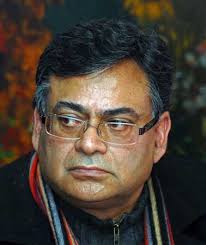 'Judicial inroads another step from India to demoralize Kashmiri's: Haqani
tweet Follow @KashmnirConvener
Srinagar, Dec 28, CNS: A day after Public Interest Litigation was filed in a Delhi court to challenge the non-applicability of any Constitutional amendment in Jammu and Kashmir, without a Presidential Order under Article 370 of the Constitution, leading legal expert Advocate Zaffar Ahmed Shah said that from last couple of years it has emerged that political issues are being projected before courts of law under the garb of Constitutionalism. "Such approach doesn't have people's support. Issues which can only be decided in a democratic manner can't be dealt with by the courts. It appears that this all is being done under with a design to take away the core sovereignty of the state of Jammu and Kashmir," Shah told news agency CNS and added that there is a dire need to fight these forces at all levels.     
Pertinently, a petition, which challenges the Constitution Order 1954 that adds a proviso to Article 368 of the Constitution has been listed for hearing before a bench of Chief Justice G Rohini and Justice Sangita Dhingra Sehgal of Delhi court would be taken up for hearing on January 2.
     Last year, a PIL, filed by an RSS backed NGO 'We the citizens', had sought Article 35A to be declared unconstitutional, contending the President could not have amended the Constitution by the 1954-order and it was supposed to be a temporary provision.
    Another renowned legal luminary Advocate Altaf Ahmed Haqani said that courts are not to settle political issues. "After denying basic rights to the people of Kashmir now Government of India has been using courts to make inroads in Kashmir. It's a judicial incursion and unfortunately state governments are acting as collaborators. The repeated PIL's submitted in the courts of law challenging the remnants of special status of Jammu and Kashmir is one more attempt from Government of India to defeat the moral of people of Kashmir who have been demanding the right to plebiscite," Haqani said. (CNS)