Be prepared for the worst or mend your behaviour Er. Rasheed to Mehbooba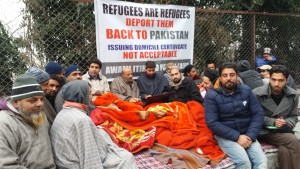 Srinagar 23 December 2016: Going ahead with its programme AIP today started 48 hour sit in outside Chief Minister Mehbooba Mufti's residence at Srinagar against issuing domicile certificate to WP refugees.
Despite severe cold dozens of volunteers headed by AIP Supremo and MLA Langate Er. Rasheed this morning gathered outside CM's residence and sat for the protest, holding banners against the state government's decision.
Talking to media persons on the occasion, Er. Rasheed warned Mehboba Mufti of dire consequences and added if she would not stop bulldozing rights of people of state she would have to face worst.
Er. Rasheed said "If forty Lakh Afghan refugees can be sent back to Pakistan, by which logic Govt. of India is trying to mislead the world community and not taking up the issue with Pakistan Govt. and sending these refugees back to their ancestral places. If New Delhi has a human heart it can resettle them in any part of India, other than the disputed area of Jammu & Kashmir. Whatsoever justification state Govt. is giving viz-a-viz domicile issue, speaks of the frustration of New Delhi, which had not anticipated huge public resentment over the issue. However let there be not any confusion about the fact that Govt is just trying to dilute the gravity of the matter, but unless and until it would not come clean over the issue and revoke the decision once for all confirming that these refugees will be given no rights within boundaries of J&K, the public resentment at various forums and levels will continue."