NC  holds workers Convention at Sonawari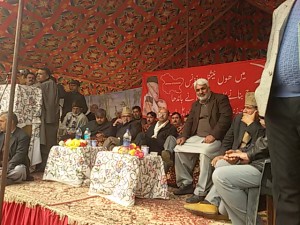 Waheed Bhat
BANDIPORA:-A day long workers convention was organised today by National Conference at Sumbal area of North Kashmir's Bandipora district.
On the occasion speakers impressed upon wokers to make roots of party strong.
Party General Secretary and MLA Ali Mohammad Sagar, District President and MLA Mohammad Akbar Lone,Ex MLA Bandipora Ghulam Rascal  Naz and other party office bearers were present.
Besides this hundreds of workers of National Conference of Bandipora district were present and asked speakers to address their grievances in time bound manner.
Speaking on the occasion, Party General Secretary and MLA, Ali Muhammad Sagar,said that when PDP tied hands with RSS the whole community got destroyed by their communal policy especially to muslims like
Triple talaq issue, Bharat mein rehna hai toh Ram Ram Kehna hai(if u want to live in India you have to speak Ram Ram.
"If Militancy is in Kashmir its because of Late Mufti Mohammad Sayeed," Sagar said.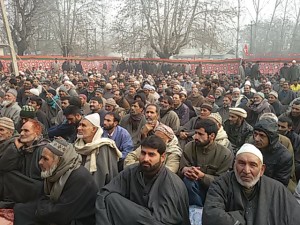 "When he was Home Minister of India, he told Farooq Abdullah who was chief minister at that time, i am sending Jagmohan as Governor of Jammu mu and Kashmir, Farooq Sahab denied but he forced him to sign as he wanted to kill Kashmir's and put everything on Government's shoulders, he said.
"Who killed Molvi Mohammad Farooq?  who showered bullets on his funeral? Nobody has forgotten Bijbihara Massacare,  it was all because of PDP's policy who has ruined Kashmir and its people, he said.
Criticising CM Mehbooba Mufti he said that she has started behaving like kid, making nonsence statements has become her hobby as she has nothing to offer which can convenience people of state.
Jamia Masjid was sealed for more than 4 months, They killed youths, blinded more than thousands of youths, Kashmir was turned into battle field it was just a war like situation.
Mehbooba was beating drums of solving Kashmir issue with  talks and not with bullets but she showered bullets only, he said.
It was National Conference who has always talked about autonomy and safeguarding rights of people of state.
National conference has always stood by Kashmir cause and has always got support from people.
National Conference is voice of people and we will stood by  demands of people, he added