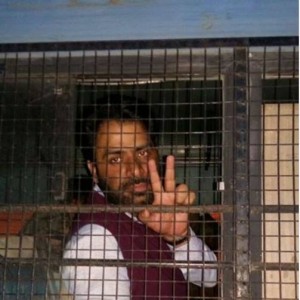 Syed Karar Hashmi
The Illegal detention of Kashmiri well known Human Rights Activist Mr Khurram Parvaiz is a matter of great concern and depicts the ugly face of democracy and ruthless mindset of government to crush just public sentiment . All these barbaric tactics are executed in Kashmir from long past to suppress the true voice of Kashmiri's and their sentiments and genuine political demands. The  suppression of truth with the barrel of gun point handed over to 7 lakh soldiers stationed in a small valley of Jammu and Kashmir , can never achieve its hindutva objectives. Peace is a like of man  and war is a dislike of man. The Indian leadership have started a direct war in Kashmir against the people of Jammu and Kashmir : 90 People ruthlessly killed, Hundreds blinded with pellet guns, round ten thousand people injured in 76 days of lockdown , teachers targeted and killed, Mosque's locked on Fridays and Human right defenders were  slapped with Public Safety Acts; is not this Indian terrorism at its peak.
The PDP-BJP coalition government has completely failed in handling the situation after killing of a local Hizbul Mujahiddin  militant Burhan Wani of Tral. On the other hand, the voice of Kashmiri's right of self determination echoed louder in UNO and other international platforms. The internationalise of Kashmir issue is a result of sacrifices rendered by people of Jammu and Kashmir and hopefully will ahead bring desired results.
The Education Minister of Jammu and Kashmir Mr  Nayeem Akhter while crying  for  bringing  back the educational system ;My million dollar question is when Educationists and intellectuals are put behind bars and are slapped with PSA. In such circumstances your cries are empty and futile.
Author is Social Activist and presently studying at Jamia Al Mustafa (s.a.w) International University Qom Iran.