Maryam Vaziri
Slowly,
the light comes to an end
And night Inevitably breaks out
Sing a bit from the elegy
When for Your heart There is no clue left to sing.
 
– I have been a man for myself
As I cry without sound Nowadays
In the grave seclusion
O world! Beware
My heart Even today Melts like a woman.
 
-I seek refuge from that love
If it Does not symbolizes you.
Love, Friendship and Humanity are the feelings that come in when singers touch strings over the melody of spell bound poetry. When Christ University Banglore hosted the Sham-e-Ghazal, it unites the large gathereing cutting across religious lines proving Plato right that Music gives soul to the universe, wings to the mind, flight to the imagination and charm and gaiety to life and to everything.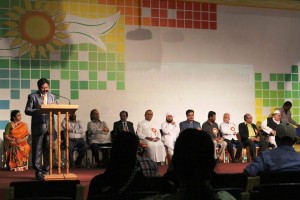 Music is a universal language that goes beyond physical and geographical boundaries of the world. It brings one as close to oneself as to others. Music helps to communicate something that is difficult to put down in a few words. It rises from one soul and hopes to reach the other. When poetry is synchronised with the notes of string it leaves everyone spell bound.
At Christ University students from different religions and cultures harmoniously co-exist and such programs are held to promote and preserve the ancient forms of art like Ghazal singing. The university is an epitome of  communal hormony and plays a key role in bridging the gaps between different faiths by holding such events.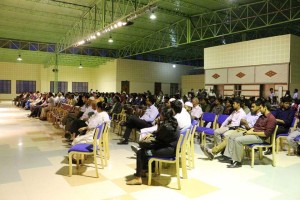 The founder of the University is a Christian but Hindus, Sikhs, Muslims study and work there in hormony and in this event all were seen together enjoying the program.
When it was time for me to read my poems, they remember icons of Persian poetry including Muhammad Iqbal, Hazrat Khwaja Hafiz Shirazi and the Lioness of Iran Simin Behbahani who too used the words like "love, friendship and humanity in their poetry and art.
As I got down from the stage, a Shia muslims poet came with a paper at me and showed a poem he wrote for Imam Ali as Ghasid-e-Ishgh.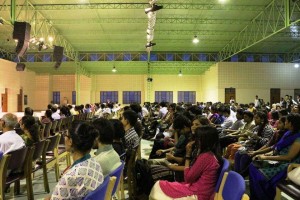 From Banglore to Tehran much has been similar when it comes to expression of feelings through poems, poetry, art and music. Reading poems and   get-togethers at evenings to listen and read poetry was a common practise in the history of Iran. Though the culture has its orgin in Iran but it travelled across seas into India through religious precahers, rulers and traders and got immersed in the local culture.
The music and poetry are the minimum common denominators that binds society toghther with music being the universal language. Events like Sham-e-Ghazal can act as agents of change, agents of peace and the agents unity.
Common masses love to read poems in different Iranian or Islamic festivals, and poets like Saadi Shirazi and Moulana Jalaluddin Balkhi (Rumi) during their times have also read their poems for their families and closed friends to enthral them. They had lived by poetry and they have enthralled a vast audience in similary fucntions.
Poem meeting in Iran was very vast and diverse practice which has its root coming from "Moal-e-ghat-e-Sabae" in the Arab world. One of its styles which was common in religious and national events including on Nowroz- all celebrations were incomplete without the events like Sham-e-Ghazal with participation of great poets of the times.
A serious function like "Zar Keshi"  -was observed once a year on Nowruz  which was hosted by king  and the best poets would enthral audience  especially the hosts and the king would recognise their talent and reward them. The program would continue for weeks. Taleb Amoli was one of these Malek-o-Shoara who were celebrities of the times and would enthral audience in such evenings. As the modernity comes, we have Shab-e-Sher in Iran wherein people gather and review the age old culture of poem reading depicting the political and social scenario of the country.
The function start with  Quran reading  and National Anthem followed by the presentation of poetry by the poets  in different genres that include comic, sociology, love story, or religious. The style of the poems can be different too, as Ghazal, Ghaside, Robaee, or new version which introduced by Nima youshij in 1937.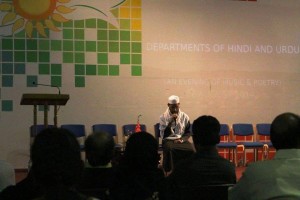 The notable Shab-e-Sher, was in Fall 1977 which hold by the Iranian Writers' Association in cooperation with the Goethe Institute called of Ten Nights of Poetry. Program  held in the garden of the German Embassy and become famous as the Shabhay-Shear-e-Goethe.
More than sixty writers and poets read and spoke against the atmosphere of repression and censorship. Huge crowds from across the country participated in these meetings. The result was gathering people and the intellectuals of the spectrum, and one of the biggest cultural events before the Iranian revolution shaped.
Nowadays the program usually takes 2 hours  in Iran and at the end, some drink and snacks are served. Poets use to stay after the program and start conversations for a while. This is the situation of Shab-e-Sher in my native country. The Sham-e-Ghazal reminded me of the rich tradition of my country and at the Christ University I felt home away from home.
Author is Ph.D Scholar in Communication and Journalism, University of Mysore. Poems translated by Dr. Balram Shukla, Sanskrit Department, University of Delhi