SRINAGAR, MAY 27: Minister for Rural Development, Law and Justice Abdul Haq today said the law enforcement agencies are required to have a dependable capacity to deal cyber crimes.
Speaking during the concluding session of a workshop on cybercrime Awareness for law Enforcing Agency, Abdul Haq said the state has faced many situations since last three decades and in present times many anti-social elements are making enough use of technology for spreading their designs. He said in such situation JK Police is required to have a dependable capacity to deal with cybercrimes.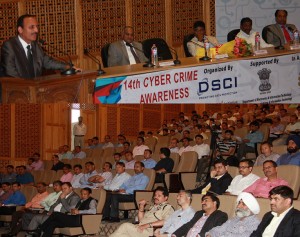 Abdul Haq said the Law Enforcing agencies need to be ahead of the criminals while dealing with cyber issues and hence should know how best to use the IT devoices and software.
The Minister said JK Police need to change their tactics by remaining updated technologically as criminals and other anti social elements are changing their tactics.
He praised efforts of organizers for their relentless efforts to organize such workshop. He said that the workshop would help in establishing cyber security among the concerned agencies and the workshop is a step forward in creating awareness regarding cyber crime and preparedness of law enforcing agencies.
Earlier Director General of Police K Rajendera welcomed the guests and appreciated the organizers for holding two-day workshop.  He said the workshop will enhance the professional capability of the Police officials in dealing with the cyber crimes in future.
The workshop was organized by Department of Electronics & Communication Technology, Union Ministry of Communication & Information Technology. The 2-day workshop in collaboration with CID Headquarters J&K was held at Police Headquarters (PHQ) which concluded on Friday.