Party convenes workers convention in Bandipora
Bandipora, May 02: PDP today said that it is committed to respond to and mitigate the political and economic problems of the State with fresh resolve.
PDP General Secretary Nizam-ud-din Bhat while addressing a party convention at PDP district office Bandipora said that the results of the  efforts of PDP in general and Mehbooba Mufti as CM in particular would bear fruit soon.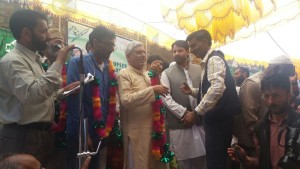 He said the people of the State are looking up towards the present Government led by Mehbooba Mufti with great hope and expectations to put up a responsive political structure, productive economic setup and supportive social fabric in place.
"Our endeavor would be to respond to and mitigate the complex problems of the state, faced by it with decades long political uncertainty, development deficit and unfulfilled aspirations," Bhat said.
He said that it is the time for action and people have already started getting a sense of change on the ground.
He said that PDP is committed for the welfare of the people set forth by Mufti Mohammad Sayeed and party is working tirelessly under the dynamic leadership of Mehbooba Mufti to implement party's welfare agenda.
He said the PDP is committed to implement the vision of Mufti Mohammad Sayeed of ushering Jammu and Kashmir into an era of peace, stability and prosperity.
MLA Batamaloo, Noor Mohammad Sheikh, District President Bandipora and MLC Yasir Reshi, District President Srinagar and MLC Mohammad Khursheed Alam and Zone President Bandipora Mohammad Amin Mir also addressed the workers convention.
The leaders expressed hope that under Bhat's leadership and guidance the party would redouble its efforts to bring much-needed relief to the people of Jammu and Kashmir.
Meanwhile, hundreds of Congress workers, hailing from different areas of Bandipora constituency also joined PDP, reposing trust in party's resolve for bringing relief to peopl of the state in general and Bandipora in particular.
Meanwhile, PDP general secretary Nizam-ud-din Bhat also castigated local legislator for reneging on his promises made during the elections. Bhat said that he has failed to deliver on ground and people of bandipora are made to suffer.
He also said that Bandipora district hospital has become hub of politics and poor patients are made to suffer.
Bhat expressed concern over the lack of patient care in the District Hospital Bandipora.
Bhat while suggesting the Health Minister to set up a commission to look into the mismanagement in the hospital affairs said that there is an urgent need of accountability, enquiry in misuse of hospital funds and poor patient care in the hospital.