Waheed Bhat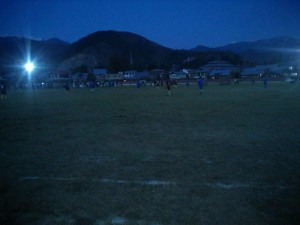 Bandipora, April 30: The ongoing 7th Hashmeer memorial football cup just went down history. The match between Chittarnar Football Club and Hashmee Football Club became the first match to be played under flood lights.
Chittarnar won the lit-up match in the most unthinkable of ways. Their opponents, Hashmees scored but in to their own goal post. The other match, played under lights too between Hashmee and Kaloosa clubs ended in a draw.
The Tournament is being organised by Hashmee Football Club and sponsored by Bandipora College of Information Technology (BCIT).
Talking To Kashmir Convener, Chairman 7th Hashmeer Memorial Football Cup, Fayaz Ahmad Fayaz said the people of Bandipora overwhelming supported today's matches as they were played in a starry night. 'Looking at the response we got, we have decided to play the semi finals of tournament under lights too," said a visibly elated Fayaz .
The match was witnessed by hundreds of spectators.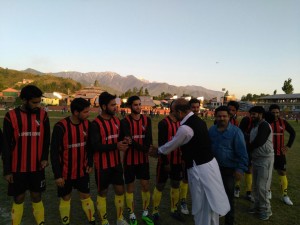 In the first half of the match both the teams played aggressively with an attacking approach but they could none could convert any of their attacks into a goal. The honours were shared till the first half.
It was in the 20th minute of the second half, the defender of Young Hashmee scored a self-goal, handing over a historical win to Chittarnar.
The second match of the day which was played between Hashmee and Kaloosa was a tie as none of the teams could score any goal. Both the teams played aggressive football throughout match but could not find the nets and match went goalless.